"Art has been saying with more and more intensity: the nature of the painting has become less interesting than the nature of the relation of painting to society." - Norman Mailer, The Faith of Graffiti
As graphic facilitators, we cannot underestimate the power of an image--created in a specific cultural or political context--to contribute to fundamental change.
In the photo to the right, a Palestinian woman and her children walk past a drawing by notorious British culture jammer and graffiti artist Banksy, along part of the controversial Israeli barrier in the West Bank city of Aram. Reuters has a slideshow of art created on the tall, concrete security wall seperating Palestinians and Isrealis in the West Bank. 
In 1984, I visited divided Berlin along with 15 students from my US High School. We were taken to The Wall with its machine gun towers, armored personel carriers, and scrolls of barbed wire. At the age of 14, I was captivated by the bursts of color along the grey facade... grafitti! 
Most of it expressed freedom and hope for those trapped on the other side.
In 1991, I was on the post-graduation speed tour of Europe (11 countries in 3 weeks), and met an East German couple who, like us, was visiting the Rhine River. Although they were in their 60s, this was the first time they had seen one of Germany's most prized geography treasures.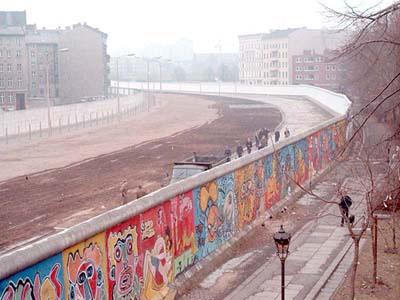 Later in my trip East towards Poland, I visited them in East Berlin. Their house was one block from the strip of land that had been occupied by the Wall for almost 30 years. 
It was completely gone.
Walls, in the end, are good at retaining earth, but bad at retaiing people, but they make for excellent surfaces for messages of hope--and defiance.
[G]raffiti is a-hegemonic in that it is a non-commodity. A commodity is something that can be bought or sold. Commodification is dependent upon ownership. Graffiti's form, stylistic goals, and violation of property prevent its commodification. Graffiti is the wall it decorates. This quality suggests three interrelated conditions. First, to remove or claim graffiti is to destroy it. Secondly, by seizing the walls in one's environment regardless of legal ownership, graffiti disrupts dominant notions of private property. One cannot buy or sell something that one has never been owned. Thirdly, as a self-referent, graffiti has no commodifiable value. In advertising nothing other than itself, graffiti "establishes itself as a negative entity." By taking desirable space, as ownership suggests, while giving back an unalterable something that does not have value, graffiti fails to conform to codes that dictate commodification. In not being able to be integrated into a commodity system, graffiti is a-hegemonic.