The dynamic duo at ImageThink (Nora Herting & Heather Willems) have put together a wonderful list of gifts for

visual thinkers, doodlers and budding sketch-noters on your gift list.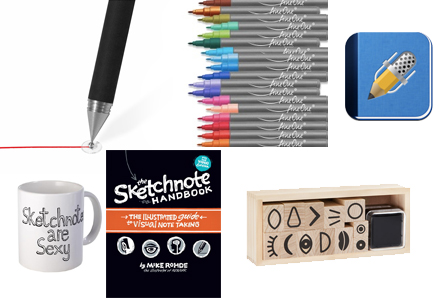 The Sketchnote Handbook: the illustrated guide to visual note taking
Mike Rohde's new book takes you step-by-step through the core principles of the very addictive and effective practice of visual note taking.
Fine Ones Markers
Water-based, refillable and won't bleed through your notebook paper — we love these versatile markers from Neuland. Available in 25 gorgeous colors, German-made Neuland markers also have replaceable nibs.
Notability app for iPad
This incredibly versatile app let's you add photos and audio recordings and allows you to mark up PDFs. More for note-taking than art making, it keeps the colors and pen options simple. The feature that really sets it apart for us is the adjustable palm resting area.
Jot Stylus for iPad
This uniquely designed stylus gives you incredibly precise line quality, and it's really affordable at $10.
Ever just feel like scrawling all over a nice blank wall? The Walls Notebook is your chance to try it out. The pages of this notebook are all just waiting for your embellishment.
Muji Funny Face stamp set
Add some personality to your sketch notes with these stamps from Muji. The great thing about this set is that only two or three of the stamps are immediately recognizable as parts of a face, so you can use this same set to improvise arrows, patterns and bullets.
Buy Muji Funny Face stamp set here.
Sketchnotes are Sexy mug
Show some sketchnoting pride with this mug. Perfect for sipping while you sketch.
Buy Sketchnotes are Sexy mug here
Learn more about
ImageThink
and sign up for their colorful & helpful newsletter at
http://www.imagethink.net/